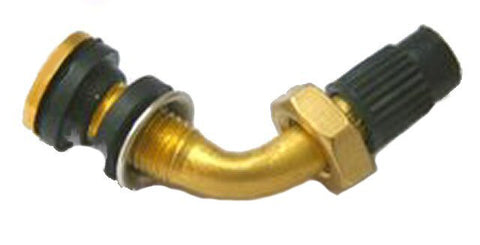 Valve Stem - Bent Air Valve Stem for Tubeless Tires > Part #153GRS19
Grand Rapids Scooter
Tires, Brakes, Wheels
Bent Air Valve Stem with removable locking nut and seals for tubeless tires.

This valve can be taken apart to fit in multiple types of wheel assemblies.

Step 1: Remove the plastic valve cap.

Step 2: Un-thread valve nut and remove metal seat ring.

Step 3: Remove upper rubber seal.

Step 4: Insert into wheel assembly.

Step 5: Put rubber seal on, add metal seat ring and tighten nut to fit.
---
We Also Recommend